Crescent Lake Homes in Windermere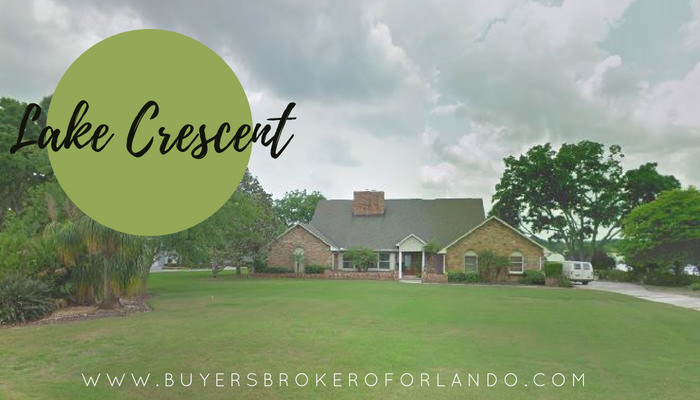 Located about 25 minutes or 14 miles from downtown Orlando is Lake Crescent. Just off of Windermere Road on the northeast side of the lake are several homes and real estate listings such as those at Crescent Pointe and Crescent Lake Drive. Crescent Pointe is located just off of Windermere Road and does not connect to Crescent Lake court or drive. Haley Drive, just south of Windermere Road, connects to Crescent Lake Drive and Crescent Lake Court offering lakefront properties, large lots, and home prices from $300,000-$900,000.
Most homes along Lake Crescent feature at least one plus Acre lots, and about 60 feet to 150 feet of sandy shoreline. Most homes were built between the 1970s and 1990s and several more have been constructed or remodeled since then. There are no homeowners association dues for those properties along Crescent Lake Drive or Crescent Lake court.
Schools and Nearby
Those with school-age children located along Lake Crescent will utilize the Windemere Elementary school about a half a mile away, the West Orange high school, and the Gotha middle school. The elementary school receives high ratings from parents and teachers alike. The Lake Whitney Elementary School and the West Learning COmmunity is just a few miles up Windermere Rd.
The closest grocery store is 6 miles up Maguire Road to the Roberson Rd intersection. Here you'll find a Publix market, the Plantation Grove Shopping Center, banks, BBQ joints, Keke's Breakfast Cafe, CVS and the Shoppes at Belmere and the Shoppes at Meadow Ridge.
To the west is the Winter Garden Village as this area borders Winter Garden. Here you'll find a Home Depot, Bracker Barrel, Starbucks, Best Buy, Lowes, Marshalls and more. This is also at the intersection of Daniels Rd and Hqy 429.
Here at Lake Crescent, you can have the lakefront living but still be just minutes to most modern and daily conveniences. For more information see available listings below or contact our office to schedule your consultation.