Disney's Bora Bora Bungalows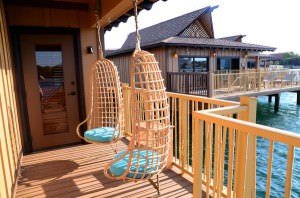 Disney's Bora Bora Bungalows
Disney's Polynesian Village Resort, one of Disney Original on-property vacation hotels has undergone a transformation, particularly Disney's Bora Bora Bungalows. Pictures here.
Namely Disney's Bora Bora style hovering-above waterfront Bungalows will make you believe  you are really out in the islands. The 20 Bora Bora Bungalows are located on the Seven Seas Lagoon.
Disney's Bora Bora each come with personal plunge pools and views of the Cinderella Castle. Included are the nightly fireworks  across the water at Magic Kingdom.  Each have 2 bedrooms and 2 baths and sleep 8. They are about 1650 square feet with a 300 sq. ft, deck.

Just think… now your Disney's Bora Bora hotel room can be on water and surrounded by water. Relaxing dreams for sure.
 Polynesian Hotel
The hotel rooms at the Polynesian have also been converted in to 360 "deluxe studio villas, which sleep 5 people and are part of the Disney Vacation Club.  The biggest rehab is the Polynesian't lobby that removed the long standing fountain from the center of the room. In its place stands a Tiki God giving more room for surrounding views.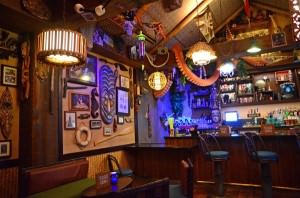 Trader Sam's  Lounge
A new lounge called Trader Sam's Grog Grotto is a big draw. It has an intimate capacity of 51 patrons.
At a soft opening last week, some visitors waited 4 hours in line to get in.
Trader Sams features exotic drinks and appetizers.  The ambiance is a dark, and heavy with Tiki decor. Special effects make it really special…black lighting, animatronics, scenes of volcanoes and heavy rain through faux windows can be activated.
The staff is also trained to be animated.  That sounds interesting for sure.
Orlando and Disney is a great place to visit, or live.  If you decide on a vacation home purchase or a permanent residence, call Buyers Broker of Florida for help in sorting out your best options. 407-539-1053