Orlando Towns with Trails
Great Demand for Orlando Towns with Trails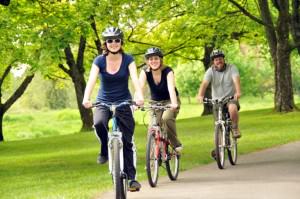 Orlando towns with trails has never been in higher demand.  Everyone wants to get outdoors to enjoy Orlando's Sunshine.  Many home buyers want to be in walking distance to a town center, designated walking trails, biking trails or shopping.
In Metro Orlando that can be hard to find unless you know where to look.  Let's face it buying a home is one thing, but buying a lifestyle is another.
Buyer Brokers of Florida Top List of Orlando Towns with Trails
There are trails and parks throughout Central Florida, but finding Orlando towns with trails together may not be a tall order.  Below is comprehensive list of Orlando towns with trails to consider.
Buyers Broker of Florida is experienced in seeking out the best places to live.
Sanford Historic with Lake front Appeal
Sanford is a walkable town.  Sanford is a historic town in North Orlando located in Seminole County, set upon Lake Monroe 11,000 acre lake with Marina.  Along this large lake is one mile paved Riverwalk trail, with extension to be extended along the lake, and is connected right into Sanford Marina and historic town.  Town of Sanford has various restaurants, shops,  and historic buildings that makes you feel like you stepped back in time.    Town of Sanford hosts weekly Alive after 5, Farmers Market, and Art Walk.  You can enjoy venues concerts and plays at Wayne Densch Performing Arts Center.   Sanford has its own international airport, Sanford Zoo, and even has free shuttle from Downtown Sanford to Lake Mary Sunrail Station.
The homes within walking distance of the Town of Sanford and trail are Waterfront Condos or Historic Homes.  Check out all Sanford Homes for Sale
Lake Mary Voted Best Suburb
Lake Mary is also walk-able.  Lake Mary is located in North Orlando, bordering Sanford.  It  has been quoted in national magazines as one of best suburbs to live.  Lake Mary Blvd. anchors all the retail and restaurants and 5.3 mile Cross Seminole Trail intersects Lake Mary Blvd.  It's accessible to bike or walk to restaurants.   This trail will connect to 14 mile Seminole Wekiva Trail.
Around the trail you can buy older Single Family Homes to brand new townhomes at Fountain Park.    Search Lake Mary Homes for Sale
Winter Garden Miles and Miles of Paved Trails
The most notable trail in Central Florida exists in Winter Garden.  The trail starts on the Orange and Lake County line.  At this location you can rent all different kinds of bicycles.  Because the West Orange Trail (22 miles) runs in the town into the Town of Winter Garden and between neighborhoods it will not be difficult to access.   The Town of Winter Garden has really grown with restaurants, retails, and local markets.  If you get on the trail entrance, you can bike, walk, jog, or skate 6 miles right into town, grab a bit to eat, and continue further.    Not only is the Town of Winter Garden growing, but Horizons West is the fastest growing area and coined a home hot spot in the Orlando Sentinel.
Homes along West Orange Trail will be both brand new, resale, and historic homes for sale.  If you are considering the Downtown area of Winter Garden, you should also search small town of Oakland.  Search Homes for Sale in Winter Garden
Baldwin Park High Marks by Yelp Users
Sought after area, is located in Orange County near downtown Orlando and Winter Park in Central Orlando.  Baldwin Park was built over an old Navy Base and is modern development with its own town center, 1940 style homes, lots of neighborhoods to walk. Harbor Park loop is 2.5 miles around Lake Baldwin, dog park, onsite activities, festivals, and connects directly 6.5 miles on Cady Way Trail which is paved through parts of Winter Park.  Baldwin Park has an onsite pool fitness center, its own restaurants, its own Publix.  Baldwin Park is Orlando top walkable neighborhoods.
Most Baldwin Park properties have been built within the last 10 years.  You will find condos, townhomes, single family homes, in addition to custom homes. All Baldwin Park Homes for Sale
To find the right community, call Orlando Buyers Brokers 407-539-1053 to learn about your best options.  Home buying in Florida is easy only when you have an experienced Buyers Broker advocate for you to make it a smooth transaction. We want to hear from you.