Baldwin Park Homes for Sale
Baldwin Park Orlando Unique Master Planned Community
Baldwin Park in Orlando, Florida has a long history as a military base before the City of Orlando purchased it in 1998.
In 2002 Baldwin Park Orlando was transformed into a walkable neighborhood with various home types, schools, offices, shops and restaurants.
Baldwin Park Orlando is a nice sized community spread over 1,100 acres.
Lots to do at Baldwin Park Orlando
When you live in Baldwin Park you never have to go far to run errands or enjoy recreation. Baldwin Park master planned community is unique with all necessities being inside the community. Publix grocery store, 14 places to eat, medical offices, businesses, and retail shops.
Baldwin Park Orlando has 5 parks which offer 2 pools, 2 playgrounds, track and field, baseball, tennis, and basketball. You can even rent out rooms or pavillions at these parks for parties.
There are 50 miles of trails to bike, run, and walk. These trails even hook up to the 6.5 Mile Cady Way Trail. My favorite is the 3 mile loop around Lake Baldwin.
Right next to Baldwin Park is Fleet People dog park where the dogs can play and swim in the lake. They even have a Food Truck event every 3rd Saturday.
Community Events at Orlando's Baldwin Park
Baldwin Park Orlando is a community with many amenities. There are onsite fitness classes, swim classes, special interest clubs, and resident committees. Some of the more popular community events are the annual Chili contest, food festivals, organized runs and walks, community garage sales, Independence day events, Easter Egg Hunts, and Halloween Party.
Baldwin Park Orlando also offers a comprehensive website for residents with monthly newsletter.
Housing options at Baldwin Park
Baldwin Park homes are unique classic 1940's style but featured with all the modern amenities.
Most homes have garages in the back with alley ways. Baldwin Park Orlando has pristine neighborhoods with manicured yards and lots of places for walking.
The Baldwin Park style and concept is New Urbanism which means a focus on the neighborhood and not just large backyard living.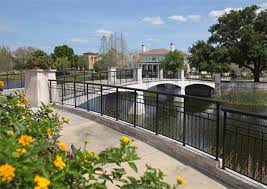 Townhomes and Condos: There are 31 homes on the market priced from $235,000 to $450,000
Single Family Homes: There are 52 homes on the market priced from $315,000 to $1,500,000
New Construction: 3 Story Townhomes and Luxury Single Family homes are being built
Baldwin Park is perfect for all ages, due to the community offerings, day to day retail within the community and location within Orlando.
Have a active and convenient lifestyle living in Baldwin Park Orlando. Check out all Baldwin Park Homes for Sale.
Baldwin Park is an ideal Location in the Heart of Orlando
Baldwin Park is located in the middle of Orlando core's making it convenient to access Orlando's perimeter areas.
Baldwin Park Orlando is located about 10 minutes from the heart of down town Orlando. It's an easy drive less than 30 minutes from Orlando International Airport. Baldwin Park borders Winter Park, and Colonial Town (zip code 32803). Baldwin Park resides in Orlando and has its own zip code 32814 if you want to do your own home search.
Top Schools at Baldwin Park Orlando
Baldwin Park has topped rated schools and Audubon Elementary and Glenridge Middle located within the community.
Audubon Elementary School: A
Glenridge Middle School: A
Winter Park High School: A
Buyers Broker of Florida helps home buyers stay informed about what is available in all neighborhoods. If you are in the market to buy a Central Florida home, please contact us for more information on any home and learn about the benefits of using our Buyer Agent services.