Gotha Homes for Sale
Gotha is a small community located in Orange County Florida just outside of downtown Orlando and home to about 2000 residents but still part of the Kissimmee, Orlando Metro area.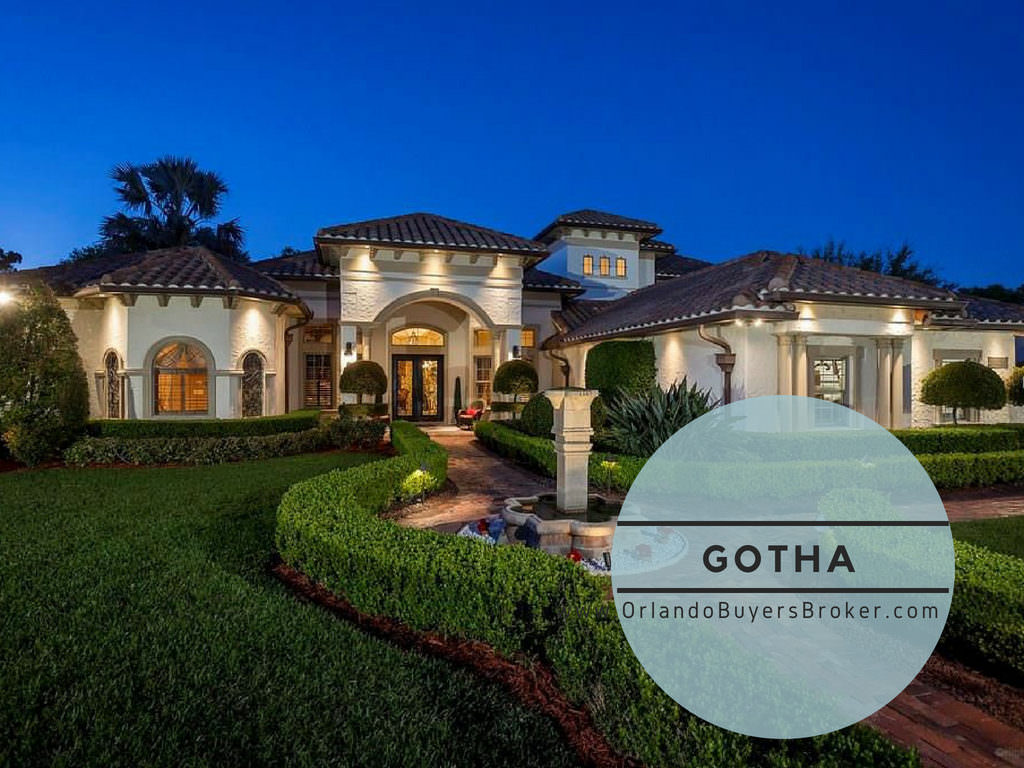 This small town was founded originally in 1885 by an immigrant H A Hempel, to which Hempel Avenue is currently named. The town was named after his original birthplace in Germany and because of the several German-American families moved in and settled around the town. Today, it's the resting place of the famous painter, Bob Ross.

Gotha is located on the intersection of Florida's Turnpike and Highway 408 just south of Minorville, and north of Windermere, nestled to the west of downtown Orlando. It's home to smaller residential neighborhoods including Lake Lily Oakes, Blackwood Acres, Saddlebrook, Carolina Terrace, Citrus Oaks Landing, Windermere Chase, and the Oaks of Windermere. As with most communities and Census-designated areas, there are plenty of lakes in Gotha. Lake Olivia and Fischer Lake are two of the largest residential property surrounding and large acreage and lots that boast waterfront views and property.

According to Niche.com, Gotha received an overall A grading for public schools, housing, diversity, low crime and high safety, nightlife, and a good place for families. The median home value is about $390,000 with the median rent of about $1300. 89% of residents are homeowners with about 11% renters. Prices range anywhere from $300,000 to over $1.5 million depending on size, layout, lot size, and condition. The community is ranked #6 is one of the best suburbs to raise a family and #12 of some of the best schools in the state of Florida.

Schools
Gotha is part of the Orange County school district and has some of the top-rated schools in the area including the Orlando Science Middle and High school charter school, the Olympia high school, the Thornebrooke Elementary school, the lake deal let charter school and the Orlando Science Elementary charter school. There are two private schools it also serves Gotha, including the Crenshaw private school and Premier Academy.

"I have spent most of my life living right outside of Gotha Florida. It's a quiet suburb of Orlando nestled quietly on the edge of Windermere and Winter Garden. It's historic and quaint and boasts a classic architecture, small restaurants, and deep family ties." – Local Resident
For more information on Gotha feel free to contact us at any time or browse all the latest listings below. We'd love to help you find the perfect home in Gotha or surrounding communities. Give us a call today.

Image above from actual MLS Listing in Gotha Courtesy of the Local MLS
Just Listed Botha Homes for Sale