Heathrow Homes for Sale
Heathrow is a community located north of downtown Orlando just off of Interstate 4 and is part of the Lake Mary area as well. This is primarily a residential neighborhood 19 miles northeast of downtown Orlando and 38 miles southwest of Daytona Beach. This is a master-planned, private, gated residential community with about 2200 homes. It features a business center and an office park and was founded originally in 1985. It's home to about 5000 residents and is home to the national headquarters of the American Automobile Association or AAA. It is considered one of the most exclusive communities in central Florida.
"I love [Heathrow] because it's a safe, gated community with tons of kids. I feel very comfortable letting them play outside in the neighborhood until dark. They go off with their friends and I don't have to worry about them." [Source] This is from a local Heathrow resident. And she's not the only one. The area is close to Interstate 4 as well as a wealth of shopping, dining, and entertainment options at the Colonial Town Park. With top-rated schools, health programs, and affluent neighborhoods, Heathrow is definitely a popular destination.
Heathrow has its own Association and community and the overall structure of Heathrow is loosely structured in many respects to the typical federal, state, and county levels of government. The Heathrow master Association level is incorporated with the state of Florida and headed by its own board of directors. It features several functions including the overall enforcement of the master covenants, maintenance of the common areas, the overall functionality of the infrastructure, and adherence to the Florida Statutes regarding associations. However, it has no connection to the Heathrow Country Club.
There are 13 neighborhood associations throughout Heathrow. Each has been incorporated separately and has its own Board of Directors. They function the same as the Master Association but on a more local level. They are responsible for their own common properties and some are combined into multiple neighborhoods such as the Bridgewater neighborhood Association which covers three, Bristol Park, Chestnut Hill, and East Camden. Each neighborhood is required to have a committee comprised of 3 to 5 members who are elected by the neighborhood residents. Each member must be owners and residents of their neighborhood. There's also a Town Council. This is comprised of all neighborhood committee chairs including 30 people and a chairman. Each neighborhood is unique and its architectural characteristics are classified by each community. It's important for any prospective buyer to investigate the architectural rules that govern each specific neighborhood before deciding on a home.
Heathrow Neighborhoods:
Brampton Cove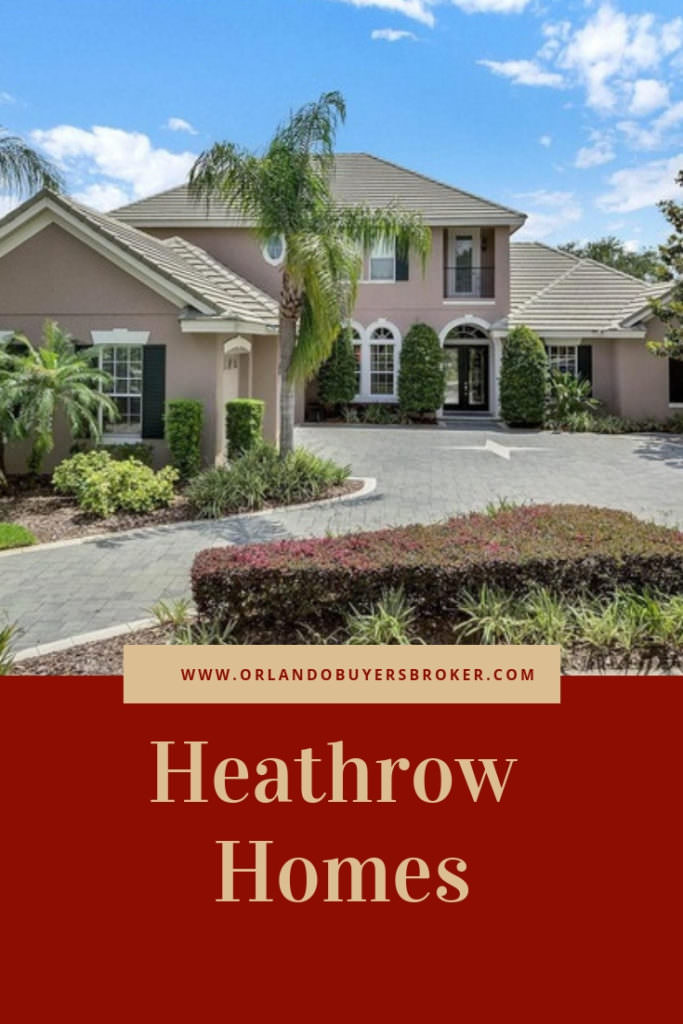 Breckenridge Heights
Bristol Park
Brookhaven Manor & Ridge
Burlington Oaks
Carrington Park
Cherry Ridge
Chestnut Hill
Clubside
Coventry
Devon Green
East Camden
Heron Ridge
The Hamptons
Keenwicke
Kentford Gardens
Lakeside
Lexington Green
Muirfield Village
Racquet Club Villas
Regency Green
Reserve At Heathrow
Stonebridge
Stratford Gardens
Turnberry
Waters Edge
Wembley Park
Westover (Bridgewater Club)
Willowbrook
Wyntree
This 3000-acre community offers desirable, luxury living with a variety of home choices premier country club facilities, and championship golf and tennis.
Amenities
residents have access to the Heathrow country club which offers golf, swimming, tennis, clubhouse events, and a restaurant. The community features walking and jogging paths, volleyball and basketball courts, multiple playgrounds, and a fishing dock at the Heathrow's Sawyers Lake Park.
Schools
Students of Heathrow attend the Heathrow elementary school, the Millennium middle school, and the Seminole high school. These schools are rated as some of the best in the state.
Heathrow receives an overall A rating for its schools, housing, good for families, low crime, entertainment, and diversity. It is been noted as one of the best places to live in Florida and offers a suburban feel with 75% of residents owning their own homes. The median home value is about $400,000 with median rent at about $1400. You're likely to find homes starting at $300,000 all the way up to $2 million or more. Many have lake views or waterfront estates and several feature custom designs and amenities.
For more information on the homes and real estate for sale in the luxury community of Heathrow, browse current available listings below or simply contact our office to schedule a showing or for a more detailed report.
Just Listed Heathrow Homes for Sale