Presidents Pointe
Presidents Pointe is located in North Orlando just off Rouse Rd and John Adams Way. These newer homes offer energy-efficient design, materials, and both single and two-story layouts with 4 to 6 bedrooms, formal living and dining rooms, family rooms, eat-in kitchen, central islands and covered when eyes. Most of the lots are larger than average perfect for entertaining.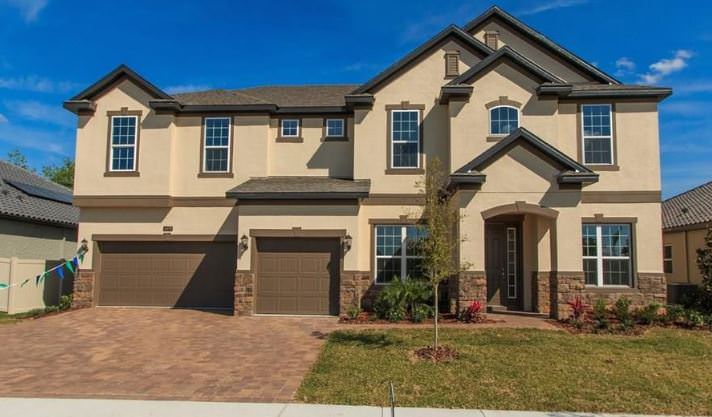 Presidents Pointe features 33 homesites with quiet cul-de-sacs and community playground. Homeowners dues are $89 per month and cover common area maintenance and management. There are several recreational facilities within the community and most homes have either a two or three-car garage. Homes that vary in size from 2500 ft.² to nearly 4000 ft.² in both single and two-story designs. Home prices start at about $430,000 and can be customized when building from the ground up. Layouts are up to six bedrooms.
Homeowner association fees are typically between $100 and $150 per month but be sure to check with new listings for exact prices. Most homes were completed within the last year or two.
Local
This community is located about 20 minutes northeast of downtown Orlando. State highway 17 is about five minutes away and shops, restaurants, and markets are all located close to the freeway on University Boulevard. This rapidly developing area features much of modernization with shopping, restaurants, and child's play area on the west end of Liberty Bell Cove.
Downtown Orlando is about 20 minutes away and close entertainment includes Little Econ Greenway, Oviedo Mall, Oviedo Sports Complex, the Spectrum Stadium, the Public House and the Waterford Lakes Town Center. The area has easy access to lots of employment, dining options, the University of Central Florida and easy access to state Route 4172 downtown Orlando.
Schools
Residents are part of the Orange County school district and are served by the Riverdale Elementary school, the Corner Lake middle school, and the University high school. Residents sometimes utilize the Cornerstone Academy K – 8 and Academy high school about 12 miles from this location.
If you'd like to view any of these homes make sure you do so with a qualified buyer's agent on your side rather than the listing agent that usually is on duty in these neighborhoods.
Just Listed Presidents Pointe and Union Park homes for Sale