Home Buyer Negotiations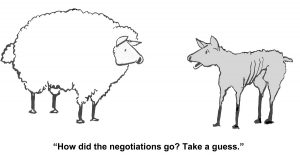 Home buyer negotiations:
Can a home buyer negotiate for themselves?
Sure, but they do a lousy job negotiating for themselves. Let me tell you the 4 main reasons why…
Home buyer has no clue what to negotiate.
Absolutely true.
Where do inexperienced home buyer negotiations start? The price, the closing costs, the home inspection re-negotiations? The home buyer has no clue what to negotiate. They don't know about local real estate, what is the buying customs, or what makes this property valuable. Maybe the house is not worth what the seller is asking, and maybe it is not even worth what the buyer wants to pay.
That is why smart home buyers have an exclusive buyers agent to do their talking…and the home buyer negotiations.
Home buyer has no experience in the nuances of Real Estate.
The home buyer does not know about real estate law, home inspections, or local customs. They are at the mercy of what they believe, what their friends told them or what they erroneously think. Many times the home buyers speak before they think. I had a buyer try to start negotiating in front of me by telling the seller how loaded with money they were!!! Please No !! Say no more!
Luckily for the home buyer, I was able to get him to stop talking and spilling the beans about how much he liked the property. This buyer was begging to pay a higher price, which is where he was heading.
Home buyers are shy about asking for concessions.
When a home buyer faces a seller to talk about the house they want to buy, they turn to mush. They start worrying about making the seller happy and somehow end up agreeing with everything the seller says. Sure, the seller thinks they have a palace and that they are giving the house away…sure they will remind the buyer of every penny it cost them to keep the 15 year old A/C running.
But does it matter? It matters to the seller, but the buyer will not know how to handle this. They will be trying to respond with the right words, but it won't sound right. Trust me, I know. That is why you need me. I negotiate for a living…I know how to handle the awkward moments.
Home buyers do not like confrontation

.

Now that is an understatement! The fact is that most home buyers hate confrontation. They would rather give up something important than appear to be hard headed.

Pretend that you are the home buyer…What if the owner tells you something and then changes their mind? Will you be able to stand up to them? What if the builder puts the wrong counter top in your dream home? The counter top that you really don't like…are you going to say anything? What if the builder dances around the fact that they missed putting in some of the upgrades and is not willing to fix the problem? Are you willing to settle for less than you contracted for?
Here are the hard facts…
Home buyer cannot and should not try to negotiate for themselves as they are not equipped to know how to do it. Good Home Buyer negotiations should be left to an experienced professional. A good negotiator is a buffer who is not emotionally entangled and does not take anything personal. At Buyers Broker of Florida, we are all experienced buyers brokers who know how to negotiate. We enjoy negotiating a good deal for the home buyer. Call us 407-539-1053.