Spotlight on Williamsburg Real Estate
Orlando (Williamsburg), Florida 32821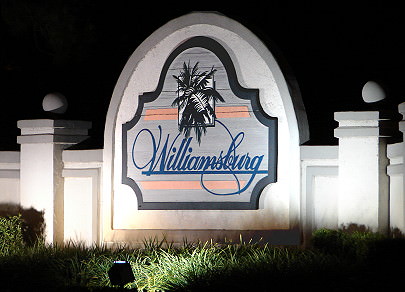 Many residents of Orlando have never heard of Williamsburg, Florida. Williamsburg is a pocket of mostly single family homes that sits next to major venues in South Orlando.
Williamsburg consists of over 3,000 homes and 7,500 residents located in Orlando's unincorporated Orange County. Centrally located.
Orlando's Convention Center, Sea World, and Tourist area of International Drive borders this neighborhood.
It's is a 15 minute drive to Orlando International Airport, and Universal Studios.  Easy access to Beachline Expessway and direct to Cocoa Beach, Turnpike, and Interstate 4.
Williamsburg has it own zip code 32821, its own Publix Grocery store, and shops within the community.
For owners, that need to live around the attractions, need access to Airport, Sandlake Road or John Young Parkway its a convenient location.  Williamsburg is one of Orlando last affordable areas.
Low HOA
HOA fees are affordable ranging from $50 to $70 per month for the most part in their 9 different Villages.  HOA includes lawn mowing, access to Commmunity Pool, Tennis Courts, and Fitness Center.
Affordability Real Estate
Real Estate is booming in Williamsburg, just in May there were 49 new listings and 48 new contracts.    May has been the highest month of new properties under contract per month since 2013!
Good properties are getting multiple offers within 24 hours.  Properties consist of many two and three bedroom homes, with one and two car garages mostly built in the 1980-1990's.   Pricing ranges from $170,000 to $435,000.   The median price of a home in Williamsburg is $175,000.  Some of the yards can be oversized with 1/4 to 1/3 acre.
What to expect in Williamsburg?
No fences and low rentals.   Most all the Villages include lawn mowing in the HOA fee, so you will not have to worry about maintaining the lawn.  This gives this community a maintained look. The downside, is they do not allow fences.  You can still have pets, I have seen plenty of them, but no fence.
The HOA also does not allow any rentals in their Village or only a rental after the first year of ownership, so long term rentals are very low in this area.
I have had the privilege recently to see about 20 homes in this community, and good percentage of them have un-permitted or expired permits on the properties, even though additions or improvements look professionally done.
How much $ should you offer?
Williamsburg real estate is attracting loads of buyers because of its all around affordability, good location, and good schools.  Demand is up, sold pricing is lagging behind list prices.  Pricing are going up!
94 Single Family homes sold within the last 6 months.
21% of these homes sold over list price 101-105% of list price
19% of homes sold at 100% of list price
45% of homes sold at 95-99% of list price
15% of home sold under 94% of list price
If you are considering a purchase in Williamsburg it will be important that buyers have their financing pre-qualification done so they can be ready to make a quick decision.  They also have to be ready to make offers over asking  if needed.  Buyers Broker of Florida buyers agents' will help buyers make a strategic offer.  Keep your offer clean and do not ask for seller to pay your closing costs, its a thing of the past in this competitive market.
If you are in the market to buy Orlando Real Estate, Buyers Broker of Florida can help. Call us. 407-539-1053