Randal Park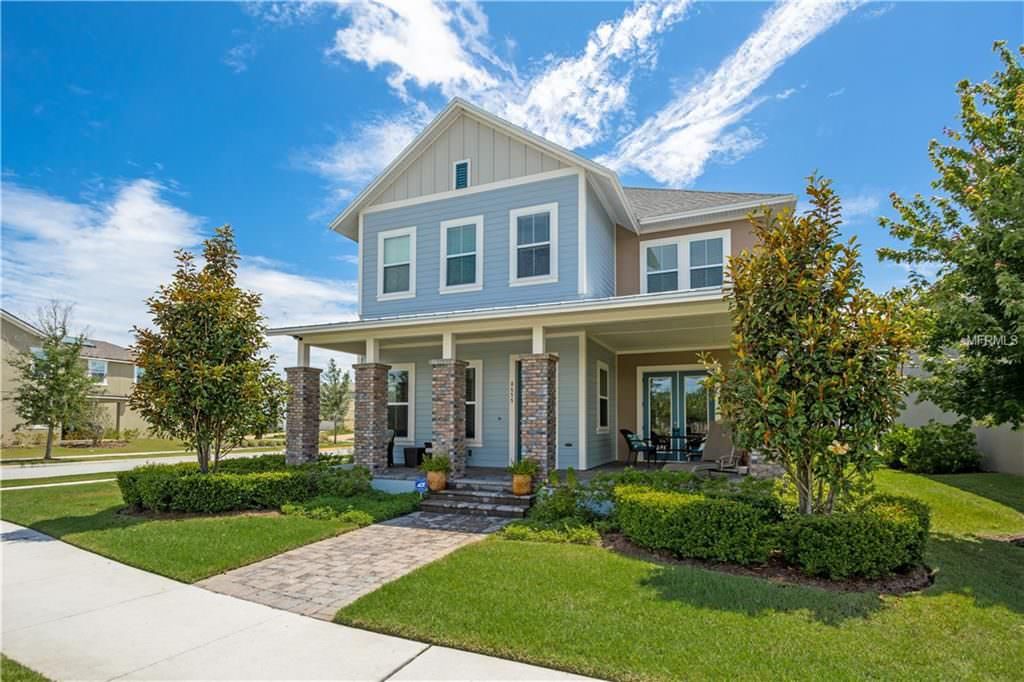 Randal Park is a Lake Nona neighborhood established in 2012 and is one of the newest master-planned communities in the area. With miles of walking and hiking trails through over 300 acres of Florida landscape, Randal Park is quickly becoming one of the most popular communities in the Orlando area.
Randal Park is located at the intersection of Highway 417 and 528 just off of Dowden Road. It has one entrance on Randal Park Boulevard and opens into a lovely community surrounding lakes, schools, and parks. With hundreds of homes easy access to Lake Nona and surrounding communities, Randal Park is one of the hottest real estate markets in the Orlando Metro area.
Randal Park includes a variety of homebuilders including David Weekley Homes, MI Homes as well as townhouses from Mattamy Homes. There are nine single-family home plans on 50 foot or 60 foot wide lots and five townhome models ranging in size from 1600 to a little over 1800 ft.². Single-family homes range from 1800 ft.² to 3400 ft.² and layouts are typically between three and four bedrooms, two and four bathrooms, and on lots of about 8000 ft.².
Currently, the resident homebuilder is Mattamy Homes, which offers a variety of floor plan options. All single-family homes and townhouses are set to top energy efficient standards. These high levels of green development include certifications from LEED-Neighborhood Development, the US Green Building Council, and the Florida Green Building Council.
Because Randal Park sits on over 300 acres of preserve Florida wilderness, there's a variety of neighborhood parks, a 5 acre Central Park perfect for family picnics, sports games, playgrounds, or reunions and a wide variety of hiking and biking trails perfect for walking the dog, getting in your morning jog, or just enjoying the area and landscape. Residents have the use of a clubhouse with a fitness center, a resort style swimming pool, barbecue areas, and a children's splash pad. Homeowners association dues pay for the upkeep and maintenance as well as management fees but association fees are extremely low, some less than $120 per year. Please check with current listings on up-to-date HOA fees.
Because the neighborhood is so new, some homes are still being built out but the majority were built between 2012 and 2016. The community features its own website to stay connected for residents and potential future homeowners. The district is a local, special-purpose government entity as an alternative method of planning, acquiring, operating, and maintaining community-wide improvements in these planned communities. Randall Park is one of these districts authorized by chapter 190 of the Florida statutes.
Randall Park has its own niche.com website receiving an A for an overall grade for schools, housing, diversity, family and nightlife. The entire community is home to nearly 22,000 residents with the median home value currently of $380,000 and a median rent of about $1400. 59% of residents own their own homes.
Schools & Nearby
Residents are part of the Orange County school district and are zoned for the Son the Sun Blaze elementary school, the Odyssey or the Lake Nona middle school, and the Lake Nona high school. Other schools that may serve this area include the Northlake Park community elementary school, the Moss Park elementary school, and the Vista Lakes elementary school. The Primrose School at Vista Lakes is a nearby preschool less than 3 miles from the community. The Sun Blaze School Is Located Right within the Community.
About 15 minutes south on the corner of Moss Park Road and Narcoossee Rd are modern conveniences such as a Walgreens, a Publix supermarket, shops, restaurants, banks, and other services. A little further north are more amenities such as the Nona Blue Modern Tavern, Panera Bread, a CVS, and other shops and restaurants.
Home prices change frequently but currently, as of the publishing of this article, home prices range from about $300,000-$700,000. Please see available listings below or simply contact our office at any time to schedule a showing. We are Buyers Broker of Orlando helping buyers find the right home in Randal Park and outlying communities in Orlando, Lake Nona, and Dr. Phillips.
Just Listed Randal Park FL Homes for Sale