Kissimmee FL hosting one of largest Rodeos in US
HUGE Rodeo in Kissimmee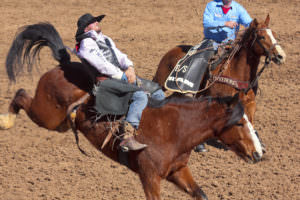 Kissimmee Florida is hosting the five star Ram National Circuit Finals, one of the biggest rodeo events in the country.
Just the thought of a big Kissimmee Rodeo brings back good memories.
Living in Horse Country
At one time we lived in Davie Florida, which was considered horse country and just like all the neighbors, we had horses.
Each one of the kids had a horse and they were responsible for grooming, exercising and feeding their horse.
That was the good ol' days when horses had a higher priority on the roads than the cars did.
Then came the construction boom and we moved farther north to Central Florida.  We no longer have horses, but the excitement of a good rodeo is not a distant memory.
Kissimmee Rodeo features
The Ram National Circuit Final Rodeo will be held at Kissimmee's Silver Spurs Arena this week for a 10-year run in Osceola.  This arena is home to the Silver Stars Rodeo which is a twice a year big event.
The four-day rodeo features the top two competitors out of seven events: Steerwrestling, bronco riding, bareback and roping from each of the 12 national circuits.  Each winner will advance to the top four finals.
Finances of the Rodeo
This event is costing Osceola County about $1.1Million a year in tourist tax money, to host this event. They expect this to be such a big draw that they plan is to move into a new 24,000 seat arena. This new arena is to be built along with a proposed Gaylord Palms hotel by 2022.
The ticket sales have exceeded expectations and the event is out-drawing last years event in Oklahoma.  Along with the cowboys coming, they are also bringing their families, friends and followers.  All will probably be checking out the theme parks.  Fun for all.  Don' t forget your rodeo tickets for Kissimmee Florida huge Rodeo event!
And…while you are here, if you are looking to buy a Kissimmee vacation home, call Buyers Broker of Florida 407-539-1053