Orlando Home Survey
Importance of an Orlando Home Survey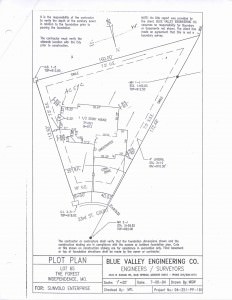 An Orlando home survey is like a snapshot of your lot with the home on it.  It is a sketch that will physically match the legal description of the property you purchased.
The Orlando home survey shows the physical boundaries of your home within the lot, any easements, fences, setbacks, and flood zones.
Surveys are applicable to single family homes and town homes, but not condos.  On a condo the home buyer only owns the individual unit, but does not individually own any land.
Must every home buyer get a home survey?
An Orlando home survey is mandatory if you finance a home, however if purchased with cash, the survey is optional.  Since the Orlando home survey is such a necessary party of buying real estate, we strongly recommended that every home buyer get a current survey.
There can be a rare occasion that the home buyer may use the sellers old survey, but is not ideal. The home may have been remodeled, the boundaries may have changed and there may be new encroachments.  To minimize your risk it is best to get a brand new survey done on every home purchase.
How much does a home survey cost?
The cost depends on complexity and size of lot.  A typicall lot is generally $250-400 but can go $1000+ for acerage.
When is the survey ordered?
The survey is ordered by the title company toward the end of the transaction after inspection and appraisal contingencies are satisfied.  However, depending on importance of the land use or specific questions that need to be addressed a survey maybe ordered at the beginning of the transaction.
Analyzing your Orlando Home Survey
Sometimes legal descriptions can be recorded incorrectly in public records. It can be shorted or have typos.  A current Orlando home survey will take the accurate legal description and match it to the physical location of your new home.
Surveys contain notes about potential easements or encroachments.  This is the home buyers opportunity to make sure there are no problems or that all issues are documented.  This is important because these may be excluded from your title policy even if they do exist. Your Orlando home survey will make you more aware of what you actually are buying.
The Orlando home survey will also document the certifications such as buyers name, lender, and title company.
The actual survey drawing outlines your home, boundary lines, any fence lines, easements, encroachments, set backs, and includes the dimensions.  It also contains a Legend to help interpret symbols and lines.
The Orlando home survey comes stamped with a raised seal demonstrating an original paper copy or more commonly now transmitted digitally in a PDF.
Tips to handle a survey in a Real Estate Purchase
Title companies often provide buyers survey at the time of closing.  This is not the best time to thoroughly analyze a survey.  Make sure you request one ahead of closing so there are no surprises.  We even had a buyer receive the survey showing their pool was in a utility easement, after they signed the closing documents.  This is certainly too late and not acceptable.
These surveys can show easements and encroachments that may be excluded from your title insurance policy.  You should hire an attorney to review your survey with your title commitment and learn about implications or endorsements.
Buyers Broker of Florida makes sure we cover all the transaction details and keep you informed all along the way.  Contact us if you are considering purchasing Orlando Real Estate and want someone on your side.  407-539-1053