What Buyers Do that Builders Hate
What buyers do that builders hate? Orlando production home builders control their business by having a strong interconnected process.  Their goal is to keep the building and buying process moving forward in order to complete home in a timely manner and make the biggest profit.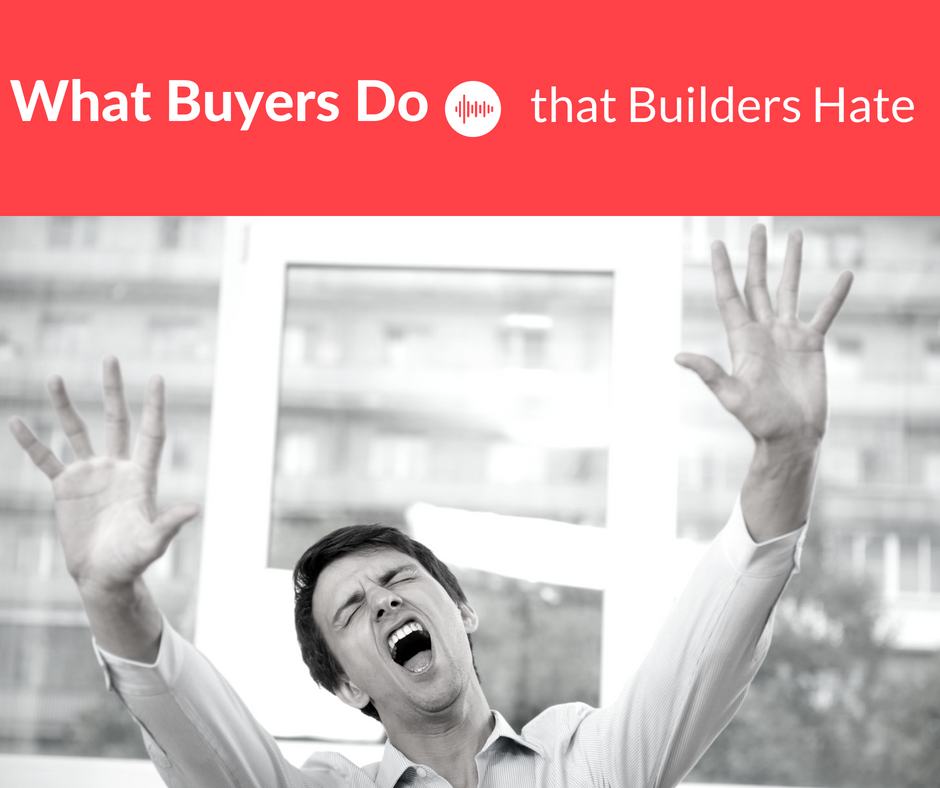 Buyers do have choices, but the builders do not always like what buyers choose.  As an Orlando Buyers Agent, we recommend home buyers to do what is in their own best interests and not necessarily what the builder wants.  We always provide buyers with all their options when they buy a new construction home.
1. Not Bringing your Orlando Buyers Agent:
Builders require buyers to bring their Orlando buyers agent to their first visit or at least minimum mention they have a buyers agent.   They make you fill in a registeration card and asks if you have an agent, by this time it may be too late to bring one.   Often buyers that go it alone get deep in the process before they realize how badly they need help.  As a result, the buyers decide to hire an Orlando buyers agent at the very last minute.  The sales agents like to know upfront, that you are being represented…not after you sign the contract.
Discuss with your buyer's agent if you want to explore new construction so you are aware of the protocols.
2. Having your attorney review the contract:
Builders see this as another delay in getting the contract signed. Sales agent's pressure buyers to sign a contract in 24 to 48 hours. So having an attorney will create a delay in which the buyer may change their mind.  Besides builders prefer that no one dissects their contract.  The attorney will raise additional concern for buyers as these contracts are very one-sided for the builder.
3. Not using the builders preferred mortgage or title company:
The builder makes more money when you use their "affiliate" companies. In addition, they feel they have more control over your loan status.  Did you know that the builder's lender provides the builder weekly updates on your loan status?  Your loan details are not as confidential like if you use an "outside lender".
Builders want you to use their affiliate companies so badly, that the builder offers home buyers incentive money to do so. Or, they have tough penalties in the contract when you don't.  Such as your contract will not be contingent on financing, which means your heavy deposits would go to the builder if your loan is not approved.  These repercussions and incentives handcuff buyers to use their companies.
If you use an "outside lender" the sales agent is required to follow up with them directly and they forget.  In addition, the outside lender does not get updated completion information on the home time and could have delays.  Builders do not like delays like this and often convince buyers that using their companies creates a smoother process.  A competent buyers agent will stay on top of the loan process and keep all parties up to date.
Orlando buyers agent recommend that buyers go with the lender that offers you the best loan terms.  Learn why the builder's lender does not always offer the best deal.
3. Putting your deposits in an escrow account:

 
Did you know that the Florida Statutes allow up to 10% of your money to be secured in an escrow account?  An escrow account or trust account protects the buyer's money in the event the builder does not complete the home.  There is typically a choice in the contract to do so. However, the builder's sales agent always selects the opposite option in the contract.  That option allows a builder use your money to build the home, instead.   The builder's sales agent will never tell you there is another option in the contract.  It is smart to hire a buyers agent when buying new construction, so the broker can really tell you what your contract says.
Home buyers should always put money in escrow even if it states there is a small fee. Some builder contracts do not allow an escrow option which is in violation of the Florida Statute.
4. Over-improving the home:
Home buyers get to choose additional options or more expensive options to be installed as part of building a home.   These extra options increase the buyer's purchase price.  Builders are nervous if a buyer selects too many options because the property will not appraise.  If the property does not appraise, the buyer is at risk for backing out of the purchase because the loan will not get approved.
Related: What happens when the Inspection Shows Unpermitted Work?
There is even more apprehension when a buyer builds a pool with the home for the same reasons.  They will not allow a pool to be built if buyers are doing a VA or FHA loan, because there is an appraisal contingency in the contract for this type of loan.  This means the build would be required to refund the buyer their deposits in case the property does not appraise.  The builder could be stuck with an inventory home and a pool.
Builders do everything not to have a property to come back on the market.  It costs them money to hold the property and they often have to discount the property to re-sell it.  So builders end up losing money.   It is not all a loss for them because more than likely the builder has already liquidated the buyer's deposits.
Buyers should be cautious about their selections.  Adding no more than 10-15% of the base price is a safe range for appraisal and loan approval.
5.  Have Your Own Inspections:
When builders hear buyers want their own inspector, they always remind buyers that the county does inspections and they do quality checks too.  It is said, in a way, that would make you think twice about hiring your own inspector.  The sure do not encourage it. Builders do not like buyer inspectors because they think the inspectors come up with non-substantiated repair list and delay construction.  Actually, a buyers inspector can enhance the process by catching problems before the home is too far in the building process.
Buyers Broker of Florida represents the home buyers best interests in a new home purchase, construction, and custom home build.  Look no further if you need an experienced Orlando buyers agent to navigate the complexity of new construction. Now that you know what buyers do that builders hate, call us first.  407-539-1053.
Read all the Orlando Buyers Agent 5 Star Reviews