Is This Keeping You From Finding Your Next Home?
 Buying a home can be compared to finding the love of your life. You go on many outings, blind dates, meet and greets, online stalking, and first dates to determine if you want to continue down a path of relationship hopefully leading to a commitment. Whether this is your first home or your seventh the long process of searching can be discouraging.
Sometimes we are the ones holding ourselves back in the process with our expectations, beliefs, and maybe even fear of taking action to move forward. Let's take a look at five things that may be keeping us from finding the right home.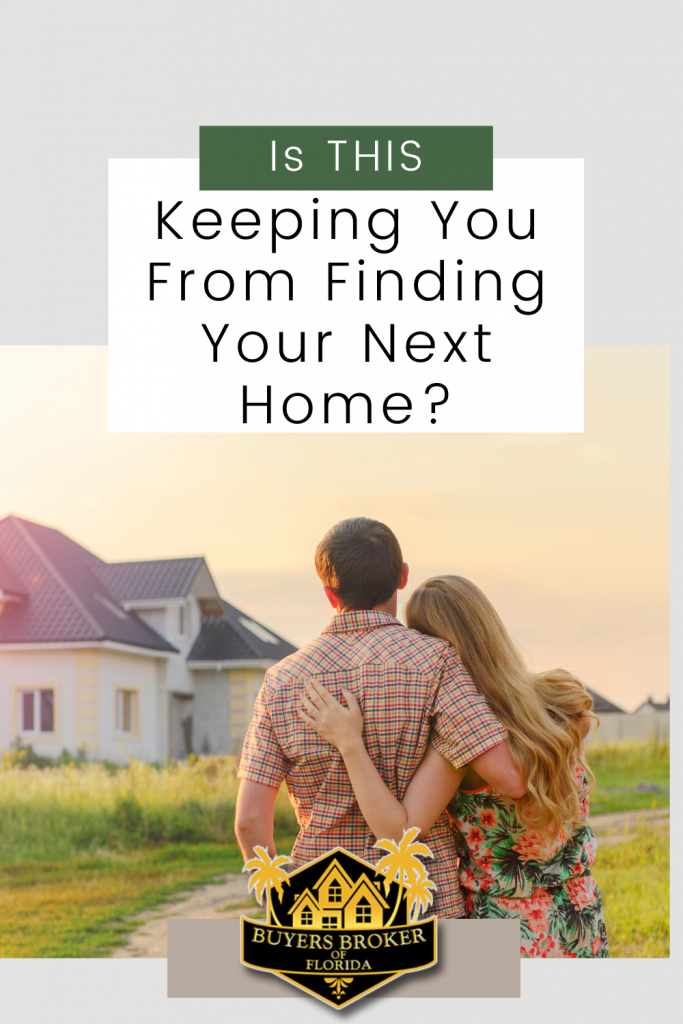 Seeing a Home "as-is"
This doesn't mean taking a home at its face value and being happy with it. Instead, it means looking past the current "as-is" state of a home and seeing what it could be. You may walk into a home to find an ugly paint color or carpet that has lived out its life. These are things that can be easily changed and would surprise you how the home can look completely different with a few touch-ups. Many buyers pass up amazing homes because they are seeing a home in ugly clown makeup and can't look past it instead of seeing it at its full potential.
Not Working with a Great Agent
A large percentage of buyers begin their home search flipping through online listings, but employing the help of an agent can help you to find what you are truly looking for much faster. A great local agent will also be aware of listings that have not yet come on the market. It is a huge time saver to interview agents and hire an expert in the neighborhood you want to live.
Loose Parameters
When spending large amounts of money it can be easy to compromise for a smaller property at a smaller price or stretch the budget too thin for what seems to be a dream home. Later you may find yourself regretting your purchase. When making large and life-altering purchases you need to sit down and decide what you truly want.
Before you start shopping the best thing you can do is write up a list of needs, nice to have, and dream amenities. When you have these items laid out you will know why it is you are searching for a certain number of rooms and bathrooms. Clearly define your living needs so you know what things can be compromised and what can't and you don't end up hating a home with only one shower where mom never gets a warm bath. The list will also help you to define what you can be a little more flexible with.
Only Thinking About Current Life Needs
There is a time and place for living in the moment, but buying a home is not one of them. It's wise to think about future needs when purchasing a home. The home you purchase now will need to suffice for life many years down the road. Do your homework about a neighborhood and find the future plans for development, this will help you determine if this is a place you will want to be for years to come.
Not Getting an Inspection
In today's competitive market buyers are letting go on contingencies in contracts when they make offers on a home. Letting go of an inspection can be a costly mistake especially if the new mortgage payment will be at the top of your budget. An inspection helps you to get the best feel for the health of the home without ripping the walls open to inspect the innermost workings. It is akin to having a mechanic check out a used vehicle before purchase.
As exclusive Orlando buyers brokers,  we can help you to find a home you will love for years to come. For more information on buying a home or condo in Orlando, please browse the website or contact me anytime. Looking to relocate to the Orlando area, perhaps outside the hustle and bustle of downtown? At Buyers Broker of Florida, we work solely with buyers looking to find the perfect home for their lifestyle and budget. Contact us at any time to start your search for Orlando homes for sale and all surrounding communities and towns.
More Great Tips for Home Buyers
What to know about buying new construction vs. an older home
Is Orlando Real Estate a Good Investment?
10 Ways You Can Ruin Your Chance of Getting a Home Loan Acceptance
Does a Home in a Good School District Have a Higher Resale Value?
How and When to Use a Kick-Out Clause
Downsides to Offering More Than the Asking Price