How and When to Use a Kick-Out Clause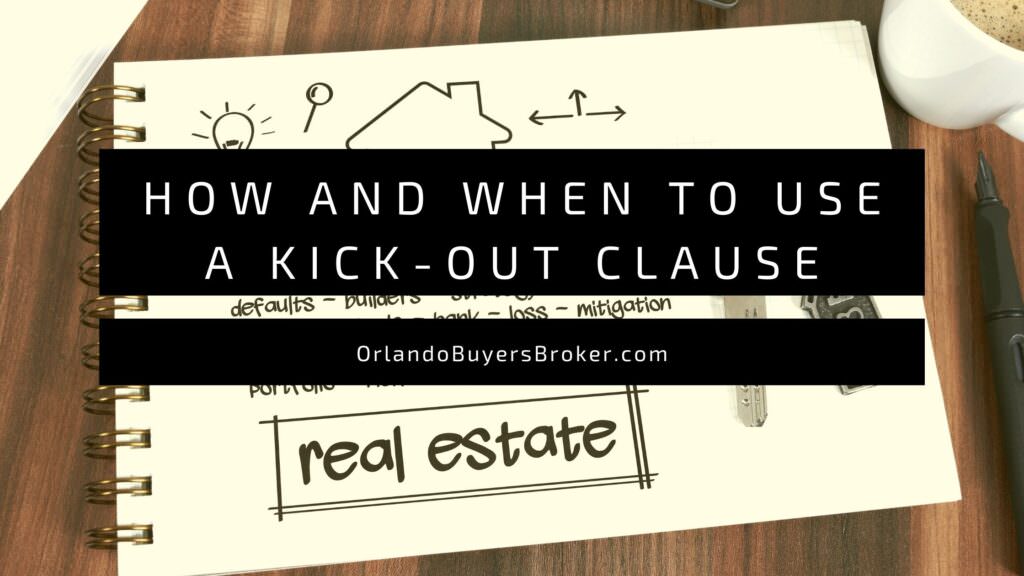 A kick-out clause allows the seller to continue to market their home to potential buyers even after accepting an offer. This clause is typically added when the buyer still needs to sell their current home in order to purchase the seller's house. This kick-out clause makes it possible for the seller to basically "kick out" that initial buyer's offer if another, more preferable offer comes in.
This might seem a bit harsh but in the real estate world, there are risks involved and in this unique market, it can actually protect both buyers and sellers. A kick-out clause can be helpful in a seller's market where the inventory is tight and there's a lot of buyer demand.
From a buyer's perspective, there are advantages and disadvantages to this clause. The advantage is that it prevents a buyer from carrying two mortgages since most buyers need to sell their home first before being able to buy the next home. The downside is that a buyer could lose the house they really want to another buyer with a better offer while they are waiting to sell their current house. In hot seller's markets, homeowners may not want to accept a contingency with a kick-out clause.
Pros and Cons to a Kick-Out Clause?
This definitely affects the seller but there are good and bad points from the seller's perspective as well. The advantage is of the seller can continually market their home seeking a better offer. If the seller receives an additional offer, they have more leverage on the negotiation side. The downside is that if the home seller chooses to use the kick out clause and goes with an offer from another buyer, they could risk having that buyer back out of the deal. Things could fall through and the seller would have to re-list the house and start all over. This can be time-consuming and it's definitely a risk, but if a better offer comes in and the current buyer cannot either remove the clause or get their homes sold within a short period of time, the buyer might be out of luck.
A seller is more likely to use a kick-out clause when there is little inventory available. It can favor the buyer when there's a lot of housing but right now, with tight inventory and a lot of buyers, these kick-out closets are becoming very popular. However, in such hot seller's markets like nursing right now, many sellers are not even accepting offers with the kick-out clause because they don't have to. By using a kick-out clause though, it can ensure that the seller is not stuck in a long, laborious home sale and it keeps the buyer from covering two mortgages if they have trouble selling their own house.
Related: Downsides to offering more than the asking price
When to use a kick-out clause?
The seller must notify the first buyer in writing that they have a more favorable offer and are exercising the kick-out clause. This will give a timeframe to the buyer to make a decision, typically within about three days. The buyer can either remove the kick-out clause from their contract and purchase the property regardless of whether or not they sell their home or they agreed to be essentially "kicked out" of the transaction and forfeit the home. If the buyer chooses to do this, they usually receive their earnest money back.
It can be extremely disappointing to have the home of your dreams retracted during this situation. So, to avoid having to utilize the kick-out clause, the buyer can sell the house first and move into temporary housing on a month-to-month basis or short-term accommodations or consider a bridge loan if the buyer needs the equity from the current house to buy the next house. When the home sells, the buyer pays off the bridge loan.
As previously mentioned, the problem with a kick-out clause is that there often shoved to the bottom of the pile. Sellers don't have to accept offers with a kick-out clause right now as many homes are flying off the market within days. But, they can be useful in the right situation. For more information on a kick-out clause, feel free to contact me at any time.
Looking to relocate to the Orlando area, perhaps outside the hustle and bustle of downtown? At Buyers Broker of Florida, we work solely with buyers looking to find the perfect home for their lifestyle and budget. Contact us at any time to start your search for Orlando real estate and all surrounding communities and towns.
More Tips for Home Buyers