Should We Figure Out Financing Or Look at Homes First?
It can be very tempting to start looking at houses first, especially when you know you're going to move, you get the moving bug, and it's fun to look at houses. You start browsing through real estate websites, looking at homes in the area, figuring out your search criteria, and maybe even setting up saved searches so you get notified as soon as a home you like hits the market.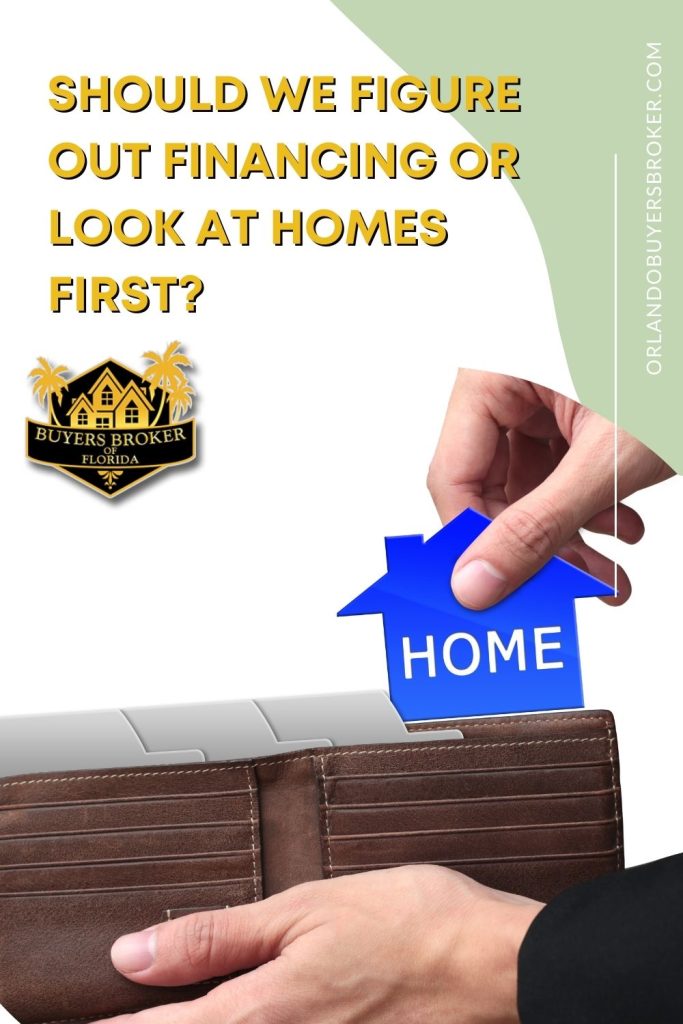 While there are thousands of real estate websites out there that can tell you how much you'll be paying monthly, only a lender can find out exactly how much you can afford. How much you can pay, how much your payment would be, and how much down payment you need can all easily be garnered from a real estate mortgage calculator or real estate tool website but only a lender can give you absolute facts on what you can afford.
So, which should you do first? Talk to a lender or look at homes?
Let's not kid ourselves; we all know you're going to look at homes first. I mean, why bother finding out how much home you can afford if you don't even know the type of home you like, right? This is definitely a two-edged sword. We said for years that buyers can get frustrated when they find a home they like in a price range they think they can afford only to determine later their budget cannot actually make the payment. Now, if you're buying a home with all cash, you know how much cash you have, or at least you should know, and can definitely build your search criteria around that.
But, if you're like most Americans, you're probably going to finance the house. You know how much you can make in a monthly payment now and maybe you want to increase that or decrease that. If your credit hasn't really changed over the years, or since you first applied for a mortgage loan and you are decreasing the monthly payment, your credit score has remained relatively high and you have very little debt, chances are you'll be able to afford at least at or lower than your monthly mortgage payment is now.
If you are increasing your monthly mortgage payment, that's a different story. While it's fun to look, it can only lead to disappointment. But, what if you're not really ready to make a commitment just now? Real estate calculators and certain tools can definitely give you an idea of what you'll be paying in a monthly mortgage payment but without a lender looking at the nitty-gritty of your credit history, credit score, debt to income ratio, your income, and consistency of that income, it's almost impossible to give you an exact figure.
Is there any way around this?
While nothing is a guarantee without talking to a lender, and even then, buyers cannot mess up their chances by quitting their jobs, losing their job, racking up considerable debt, or other pitfalls after you've been approved for a mortgage, you can pretty much guarantee that what the lender says is what you can afford. But, a good way around this if you're not quite ready to make the jump and get preapproval, is to simply go at least 25% lower than what you are approved for.
For instance, if you make about $200,000 in household income before taxes and you have a monthly debt of around $500 or so, let's say for a car payment, and you're putting in equity from an existing house to the tune of around $300,000 with a 30 year fixed income at about a 3% interest rate, with an excellent credit score, you can typically budget around $1.2 million. But, that's only with an online calculator, not with an actual mortgage lender. So, knock off about 25% of that which is about $300,000. If you keep your price range around the $900,000 mark, chances are you can pretty well afford that.
Again, this is no guarantee but it does give you a little bit more breathing room so that you're not super disappointed if a lender tells you actually, you can only afford $1 million. Hey, that's still not too bad.
So, while we know that everyone looks at homes first, it's a good idea to scale back your search and not get too excited over that top approval number without talking to a lender first. If you're ready to make the jump and would like to speak to a lender about how much you can actually afford in an Orlando area home, give us a call at any time. We have lenders in the area that specialize in helping folks get into the home they really want in a price they can afford.
Looking to relocate to the Orlando area, perhaps outside the hustle and bustle of downtown? At Buyers Broker of Florida, we work solely with buyers looking to find the perfect home for their lifestyle and budget. Contact us at any time to start your search for Orlando homes for sale and all surrounding communities and towns.
More Information for Our Buyers:
Is Orlando Real Estate a Good Investment?
10 Ways You Can Ruin Your Chance of Getting a Home Loan Acceptance
Does a Home in a Good School District Have a Higher Resale Value?
How and When to Use a Kick-Out Clause
Downsides to Offering More Than the Asking Price